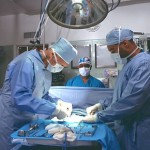 A new trend in healthcare fraud enforcement reflects a willingness by hospitals to be more forthcoming. Detroit Medical and St. Mary's Medical Center in Pennsylvania recently reported improper financial relationships with physicians — voluntarily. Detroit Medical entered into a $30 million settlement agreement with the U.S. government stemming from violations of the False Claims Act, the Anti-Kickback Statute, and the Stark Statute. The violations were discovered while Vanguard, in preparation for its acquisition of DMC, was investigating DMC's potential liabilities.
Media outlets, such as the Detroit Free Press, have heralded referral arrangements with physicians as the new target for healthcare fraud, replacing billing fraud. Furthermore, it is possible – as many contend – that the emergence of this practice may be credited to recent health care reforms such as the PPACA.
The industry is still reeling from the passage of the PPACA last March, which facilitated larger penalties and easier prosecution. Hospitals must now return all illegally obtained funds within 60 days of receipt, and False Claims Act cases are less likely to be dismissed on grounds that their information was already known to the government.
The PPACA signifies the Obama Administration's commitment to funding ramped up fraud enforcement efforts — a message that has frightened many health care providers. Displaying this fear, the American Hospital Association recently requested the Department of Justice exert "greater oversight" of False Claims Act investigations, citing their ability to generate a "substantial and even devastating impact on our members."
DMC's settlement also raises questions concerning the efficacy of the government's efforts over the past fifteen years to "clean up" physician practice issues. DMC's violations included permitting physicians to continue renting office space after leases expired; free signage and marketing help; free continuing medical education seminars held most weekends for doctors on the DMC campus; and other perks, including tickets to sporting events. Incentives and perks like these are harmful as they frequently induce doctors to order unnecessary tests or procedures to reward the facility. As a result, they are illegal under the Anti-Kickback Statute and the Stark Statute.
Despite the DMC's large size and the potential difficulties of tracking violations of that scale, the law in this area is long-standing and clear. As one legal expert in the field has advised: "If you bill the federal government for medical care, you ought to know the rules."