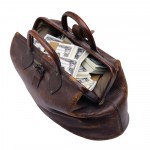 Tenet Healthcare has agreed to pay $42.75 million to resolve claims that facilities owned by the corporation billed Medicare for medically unnecessary rehabilitation services.  The False Claims Act prohibits submission of a false claim or actions which cause a false claim to be submitted for money or property in control of the federal government.  Tenet sought reimbursement for services rendered to patients at intensive rehabilitation facilities (IRFs) owned by the company where such patients did not qualify for the highly-specialized and expensive type of care provided at IRFs.
The settlement follows a landmark agreement reached in 2006 between Tenet and the federal government over similar, but unrelated, False Claims Act violations.  In that settlement Tenet paid over $900 million to settle allegations under the False Claims Act concerning falsification of patient costs in order to receive lucrative Medicare reimbursements, illegal kickbacks and incentives to referring physicians, and systematic "upcoding" of patient diagnoses to falsely inflate reimbursable expenses.
As part of the 2006 settlement, Tenet agreed to enter into a five-year corporate integrity agreement imposing numerous reporting and restructuring requirements to ensure full compliance with federal and state law.  Among other things, the agreement required Tenet to implement a comprehensive compliance program complete with employee protections for reporting fraud and obligations on the company to review allegations of improper activity and disclose fraudulent activity to the government.
Today's settlement arises out of the corporate integrity agreement reached in 2006 because the false claims relate to patient services provided at IRFs between 2005 and 2007.  In addition to internal disclosures, the qui tam provisions of the False Claims Act enable employees and other private citizens to report fraud by bringing an action on behalf of the United States.  Indeed, the False Claims Act encourages qui tam relators, often referred to as whistleblowers, to bring material knowledge of fraud to light by allowing relators to share in up to 30 percent of the recovery obtained by the government in an action or settlement.