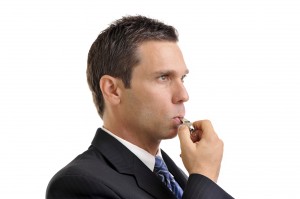 A U.S. hospital chain, TeamHealth, agreed to settle allegations that a recently acquired subsidiary, IPC, violated the False Claims Act by "up-coding" Medicare and Medicaid for services that were not performed, or were exaggerated. The lawsuit settled by TeamHealth was initiated by Dr. Bijan Oughatiyan, a physician formerly employed by a subsidiary acquired by the company.
False Claims Act ("FCA") cases often hinge around information gathered from corporate whistleblowers who file lawsuits against their employers who allegedly commit fraud against the government. The Act was passed in response to rampant fraud on President Abraham Lincoln's Union army. The army, Lincoln's government, and taxpayers alike were outraged by businesses and "pork-barrel" businessmen that profited greatly from selling American civil war soldiers rotten food, boots with holes in the soles, and guns that could not fire.
The statute is unique amongst civil fraud remedies, as it empowers individuals with "inside" information about fraud on the government to share in any recovery the government may make. These individuals, referred to as "relators" in legalese, and who are often referred to as corporate "whistleblowers" frequently obtain 15-30% of recoveries made because of their FCA lawsuits.
Last year, the government recovered over $3.5 billion from False Claims Act litigation and settlements made with government contractors hit with suits. In this case, Dr. Oughatiyan will receive approximately $11.4 million because of the settlement with TeamHealth.
According to the complaint filed in the Northern District of Illinois, IPC, before being acquired by TeamHealth, systematically "encouraged false billings by its hospitalists, who are medical professionals whose primary focus is the medical care of hospitalized patients." Particularly, the U.S. Attorney's Office alleged that IPC encouraged its doctors and staff to bill Medicare and Medicaid "a higher level of service than actually provided. IPC's scheme to improperly maximize billings allegedly included corporate pressure on hospitalists with lower billing levels to 'catch up' to their peers."
"Up-coding" is, unfortunately, a common source of FCA fraud. In essence, when a doctor or a healthcare system bills Medicare or Medicaid – the U.S. federal government's largest healthcare programs – the healthcare provider seeking reimbursement certifies that all requested reimbursements are for services that occurred, were deemed "medically necessary" by a patient's physician, and complied with "material" requirements of federal healthcare regulations.
By "up-coding," the individual or healthcare system responsible for submitting claims to the government in effect "up-charges" the healthcare program for services that were not provided, are different from those billed, or, for services that are reimbursed at lower rates than those requested in a billing request.
Both Medicare and Medicaid contractors have been the primary ire of the government's focus on FCA enforcement since President Obama took office. All indications suggest the Trump administration will be equally as active in prosecuting fraudulent government contractors.
In announcing the 2017 settlement, U.S. Attorney Zachary T. Fardon for the Northern District of Illinois said, "Medical providers who fraudulently seek payments to which they are not entitled will be held accountable." He went on, "False documentation of treatment is not just flawed patient care; it is illegal."
In connection with the settlement, TeamHealth will enter into a Corporate Integrity Agreement ("CIA") with the government. CIA's are common remedies that are often implemented by the government following the resolution of an FCA suit alleging, large-scale, structural corporate fraud.
Specializing in False Claims Act litigation, Greene LLP's partners Thomas M. Greene and Michael Tabb  each have over twenty years representing whistleblowers. Alleging fraud against the government is often tough, and whistleblowers' complaints can be met with vigorous and well-healed corporate defendants. Speaking with an experienced FCA attorney may help resolve questions about a potential claim and may evaluate the viability of a potential whistleblower's claims.