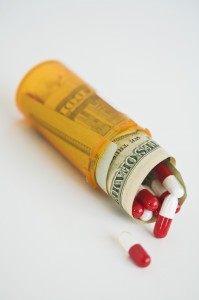 This week, Bristol-Myers Squibb Co. ("BMS") and Otsuka America Pharmaceutical Inc. ("Otsuka") asked a federal court judge in Ohio to dismiss a complaint filed against them by two relators that alleges that the pharmaceutical companies offered illegal kickbacks to physicians in order to induce them to promote off-label uses of the antipsychotic drug Abilify. Induced prescriptions for off-label uses are not eligible for reimbursement by government health care programs. The kickbacks allegedly violated the Anti-Kickback Statute. Both allegations predicate liability under the False Claims Act. Two former sales representatives employed by BMS are specifically alleging that, beginning in 2005, the companies engaged in a nationwide scheme to fraudulently promote Abilify to doctors of pediatric and geriatric patients. Aripiprazole, marketed jointly by BMS and Otsuka as Abilify, generated sales of over $6 billion in 2013. Such sales make it one of the highest-grossing prescription drugs worldwide.
In September 2007, BMS entered a corporate integrity agreement with the Office of Inspector General of the Department of Health and Human Services following allegations that the company improperly promoted Abilify for pediatric use and to treat dementia-related psychosis in the elderly. Otsuka entered a similar corporate integrity agreement in March 2008. The agreements were to remain in effect for five years. In filing their complaint in January 2011, however, relators Joseph Ibanez and Jennifer Derrick allege that the companies failed to comply with the terms of their respective agreements. In exchange for the 2007 settlement, BMS agreed to modify its call lists as necessary to ensure that it was promoting its products in a manner that complied with all relevant law. The call list review was to occur at least annually as well as each time FDA approved a new or additional indication for Abilify. Despite this promise, the relators claim that BMS continued to maintain call lists that inappropriately included physicians who treated children, adolescents, and geriatric patients. The sales representatives were compensated on a volume-based system and were responsible for calling on providers to increase their prescribing habits, allegedly without regard to the appropriateness of the targets or the legality of the messages. Following complaints made to their supervisors about the allegedly inappropriate call targets, both relators were terminated in 2010.
While Abilify has been approved by the U.S. Food and Drug Administration ("FDA") to treat an increasing number of conditions in a variety of patient populations since 2002, the drug was not approved for certain uses during the period covered by the complaint—even if the uses have since been approved. "Off-label" refers to the use of an approved drug for any purpose, or in any manner, other than the indications approved by FDA and described in the drug's labeling. Off-label use includes treating a condition not indicated on the label, treating the indicated condition at a different dose or frequency than specified in the label, or treating a different patient population than what the drug is approved for. Although physicians may prescribe drugs for off-label usage, the law prohibits drug companies from marketing or promoting a drug for a use that the FDA has not approved. In some instances, the companies also allegedly marketed Abilify inappropriately in spite of Black Box warnings associated with the treatment of depression in children and adolescents and similar Black Box warnings for treatment of patients with dementia.
Last month, an unrelated complaint was filed against BMS and Otsuka for allegedly failing to warn doctors that the drug makes children more likely to develop adult-onset diabetes. The average recommended dose of Abilify allegedly increases a child's risk for Type II diabetes 7.72 times above normal, but BMS and Otsuka did not update their labeling to alert doctors about the severity of the risk. Since at least 2005, Bristol-Myers and Otsuka allegedly knew of updated studies and other information that pointed to an increased risk of diabetes in children prescribed Abilify.
Finally, in respect of the illegal kickbacks, the relators allege that physicians were offered paid lunches and expensive dinners to participate in the company's speaking engagement program. The federal Anti-Kickback Statute makes it illegal to pay a kickback to induce someone to furnish or arrange "any item or service for which payment may be made in whole or in part under a Federal health care program." The statute was amended in 2010 to state that a claim that includes items or services resulting from a violation of the Anti-Kickback Statute constitutes a false or fraudulent claim for purposes of the False Claims Act.