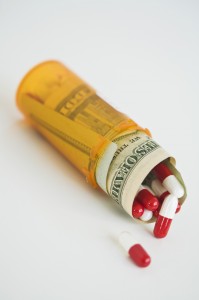 Pharmaceutical manufacturer Mallinckrodt LLC has agreed to pay $3.5 million to settle allegations that it made illegal payments to physicians to prescribe anti-depressants and sleep aids produced by the company. The improper payments allegedly created the submission of false claims to Medicare and Medicaid between January 2005 and June 2010 in violation of the federal False Claims Act and several parallel state false claims statutes.
The complaint filed in 2008 by former Mallinckrodt employee John Prieve alleged that the company paid physicians consulting fees and fees for their participation in speaking programs, meetings, for completing forms, and for clinical trials as an incentive to prescribe Restoril, Magnacet, Tofranil-PM, and their generic equivalents. Prieve alleged that the majority of the physicians would not have prescribed these drugs absent the financial incentives as the drugs were "third rate" and "outdated" being first approved by the FDA decades ago.
Prieve filed his complaint alleging fraud on government healthcare programs on behalf of the United States under the qui tam provisions of the False Claims Act. As the realtor, Prieve is entitled to up to 30% of any final judgment or settlement as well as protection from employer retaliation. Prieve will receive $603,000 for his role in exposing the alleged fraud in this case.
Approximately $3.17 million will be paid to the United States government, which both funds the Medicare program and contributes to the various Medicaid programs around the country. The remainder of the settlement funds will be divided between California, Maryland, Missouri, New York, Ohio, Rhode Island, Utah, and West Virginia.