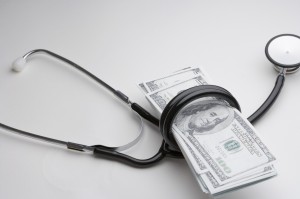 The U.S. Department of Justice announced yesterday that Tennessee-based Community Health Systems Professional Services Corporation and three affiliated New Mexico hospitals (collectively "Community Health") have agreed to pay the federal government $75 million to settle a relator's allegations that they violated the False Claims Act by making illegal donations to county governments which were then used to fund the state share of Medicaid payments to the hospitals. The corporation manages more than 200 affiliated hospitals across 29 states. Community Health is one of the largest hospital organizations in the nation and employs 135,000 people, including 22,000 physicians. In September, the publicly traded company reported to its investors that it had set aside a reserve of $75 million to cover the claims involved in this case. Every aspect of the case, from discovery to dispositive motions, had been fiercely litigated with nearly 650 docket entries filed.
Title XIX of the Social Security Act (the Medicaid Act) authorizes federal matching funds to the states for Medicaid programs to provide medical assistance to persons with limited income and resources. New Mexico's Sole Community Provider ("SCP") program, though discontinued in 2014, provided supplemental Medicaid funds to hospitals in mostly rural communities. The federal government reimbursed the state of New Mexico for approximately 75% of its health care expenditures under the SCP program. Under federal law, New Mexico's 25% "matching" share of SCP program payments was required to consist of state or county funds, but not impermissible "donations" from private hospitals. This restriction on the use of private hospital funds to satisfy state Medicaid obligations was enacted by Congress to curb possible abuses and ensure that states have a sufficient incentive to limit the rising costs of Medicaid.
According to United States ex rel. Baker v. Community Health Systems Professional Services Corporation, et al., filed under seal in March 2005 by the corporation's revenue manager, Robert C. Baker, Community Health caused the state to present false claims to the federal government for payments made to Community Health under the SCP program by making improper donations to Chaves, Luna and San Miguel counties, which were then used by the counties, and subsequently the state, to obtain federal matching payments. The hospitals implicated in the settlement are Eastern New Mexico Medical Center, Mimbres Memorial Hospital and Nursing Home, and Alta Vista Regional Medical Center. The conduct allegedly occurred between 2000 and 2010. The federal government elected to partially intervene in the case in 2009 but did not intervene with respect to Baker's allegations involving SCP payments made to two other affiliated New Mexico hospitals, Carlsbad Medical Center and Lea Regional Medical Center. The settlement, however, also resolves these other allegations. Baker will receive $18,671,561 as his share of the government's recovery.
In August 2014, Community Health agreed to pay $98.15 million to resolve seven whistleblower False Claims Act lawsuits that accused the company of overbilling government programs for inpatient services that should have been billed as outpatient or "observation" services. The government also intervened in these cases, alleging that from 2005 to 2010, Community Health engaged in a "deliberate corporate-driven scheme" to increase inpatient admissions of government health program beneficiaries over the age of 65—admissions that were not medically necessary. That settlement also resolved allegations that one of the company's affiliated hospitals, Laredo Medical Center, improperly billed Medicare for certain inpatient procedures and for services rendered to patients referred in violation of the Physician Self-Referral Law, commonly known as the Stark Law. The Stark Law prohibits a hospital from submitting claims for patient referrals made by a physician with whom the hospital has an improper financial relationship. The law, motivated by concerns similar to those involved in the Anti-Kickback Statute, is intended to ensure that a physician's medical judgment is not compromised by improper financial incentives, and is instead based on the best interests of the patient. The law defines a financial relationship as including "a compensation arrangement" in which "remuneration" is paid by a hospital to a referring physician "directly or indirectly, overtly or covertly, in cash or in kind."
As part of the August settlement, Community Health entered into a Corporate Integrity Agreement with the U.S. Department of Health and Human Services – Office of Inspector General, requiring it to engage in significant compliance efforts over the next five years. For example, under the agreement, Community Health is required to retain independent review organizations to evaluate the accuracy of the company's claims for inpatient services furnished to federal health care program beneficiaries.