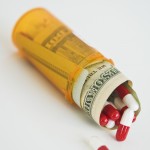 CVS Caremark Corporation ("CVS") allegedly used $5 discount coupons to attract Medicare and Medicaid beneficiaries to fill prescriptions at its stores in violation of the Anti-Kickback Statute. Relator Richard Carmel is arguing that the coupons do not fall under an exemption that allows providers to offer items of nominal value. According to Carmel, the nominal value safe harbor provision does not apply to this case because the safe harbor is only available under the Civil Monetary Penalty Act. The Anti-Kickback Statute has no such limitations or qualifiers. In addition, the safe harbor provision, which permits nominal incentives of $10 per item or $50 in the annual aggregate, does not apply because the prescription rewards can be added together to exceed the $10 per item threshold and ExtraBucks Rewards are considered to be cash equivalents. Finally, the aggregate value of the ExtraBucks received by Medicare and Medicaid beneficiaries at CVS's more than 7,000 nationwide stores, far exceeds the $50 per year limit. The Anti-Kickback Statute is a federal criminal statute that prohibits any party from knowingly and willfully offering remuneration to induce someone to purchase a good or service reimbursable under a federal health care program. Violation of the Anti-Kickback Statute predicates liability under the False Claims Act.
Carmel originally filed his complaint under seal in August 2013. He is alleging that the ExtraBucks rewards program is utilized by CVS to encourage customers not to fill prescriptions using a competitor such as Walgreens. But by failing to exclude Medicare and Medicaid recipients from the rewards program, CVS allegedly provided those beneficiaries with an inducement, without similarly passing that remuneration on to Medicare or Medicaid. CVS therefore allowed Medicare and Medicaid recipients to benefit from the prescription rewards program at the expense of the government healthcare programs. CVS also allegedly failed to inform the beneficiaries of the prohibition on free or discounted goods, and failed to inform them of the obligation to disclose those rewards to Medicare or Medicaid. Significantly, CVS expressly or implicitly certified to federal and state governments that it was in compliance with applicable Medicare laws and Medicaid laws and the Anti- Kickback statute. Had CVS not certified its compliance, the federal and state governments would not have paid related claims for reimbursement. In opposition to the motion to dismiss filed by CVS, the relator cited Yarberry v. Sears Holdings Corp. where the court said that it was not persuaded by CVS's assertions that the multiple alleged kickbacks are de minimis and cannot form the basis of an actionable claim.
According to his opposition to CVS's motion to dismiss, Carmel and other Medicare and Medicaid beneficiaries received below fair market value discounts in exchange for filling their prescriptions at CVS. More specifically, the discounts provided by CVS allowed him and other rewards recipients to purchase items from CVS at lower prices than they would have otherwise paid for the same items from CVS or its competitors. Fair market value is commonly defined as "the price a willing buyer would pay a willing seller when neither is under compulsion to buy or sell." Carmel indicates that to accept CVS's argument that he has not pled that the rewards resulted in discounts below fair market value, the court would have to accept that the nation's second largest retail pharmacy chain offers goods at prices which are higher than a willing buyer would pay for them. In other words, if CVS did not offer products at fair market value, it would not be in business. CVS's retail pricing therefore provides a sufficient benchmark for fair market value. The Anti-Kickback Statute itself states that impermissible remuneration includes "transfers of items or services for free or for other than fair market value." So, because program participants can use the CVS ExtraBucks rewards like "free CVS money" to obtain general wares for free, the ExtraBucks rewards are allegedly remuneration under the statute.
CVS most recently reported revenues from its pharmacy and retail store sales in excess of $36 billion and a quarterly profit of $1.22 billion. Of these amounts, sales to Medicare and Medicaid recipients accounted for several billion dollars. CVS operates approximately 7,100 outlets selling drugs and related items. Its chief competitor is Walgreens, with 8,100 stores. In 2013, CVS and Walgreens combined to take in nearly 40% of total prescription drug revenue throughout the U.S.