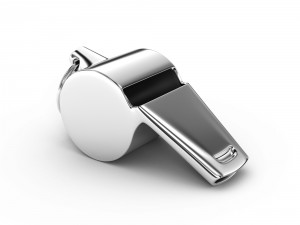 Last week, the Court of Appeals for the Fourth Circuit revived a False Claims Act retaliation case filed by two nurses allegedly terminated by a U.S. Department of State contractor. The decision reversed a district court's 2013 dismissal of the complaint brought by husband and wife Ronald and Ramona Young alleging that CHS Middle East LLC ("CHS") of firing them after they complained of contractual violations related to the intensity of treatment, surgical facilities, and staff member qualifications at a military base in Iraq. More specifically, the Court of Appeals found that the quality-of-care concerns expressed by the nurses are protected activities under a recent ruling that expanded liability under the federal statute. It reasoned that if implicit false statements amount to fraud under the False Claims Act, employee criticism of such false statements may constitute protected whistleblower activity. The Act expressly prohibits retaliation because of lawful acts done in furtherance of an action or to otherwise stop one or more violations of the Act.
CHS had a $61.5 million services agreement with the U.S. Department of State to provide medical services to non-military personnel in Iraq. The contract required CHS to "ensure" that its staff was "properly trained and certified." Pursuant to that contract, CHS hired the Youngs, both experienced nurses, to work as "Medical Surgery Registered Nurses." When he began work in September 2011 at Forward Operating Base Shield in Iraq, Ronald Young allegedly noticed that CHS attempted to utilize expired medicine. He then informed his supervisors that such use was illegal. By November 2011 he was transferred to Sather Air Force Base where his critical care skills were needed. Ramona Young also worked at Sather, beginning in October 2011, where she allegedly expressed concern about the lack of equipment and properly trained medical personnel. She allegedly informed a supervisor that the shortcomings were "totally misleading" put her nursing license "on the line." The Youngs subsequently observed various additional failings and escalated their concerns to CHS employees not stationed in Iraq. Ronald Young allegedly informed CHS's director of international operations about their concerns. After this, the staff at CHS allegedly began treating the Youngs poorly. On December 20, 2011, they contacted the State Department to raise their concerns. Two days later, CHS terminated the Youngs. They then returned to the United States on December 24, 2011.
The sole element on which CHS based its motion to dismiss and on which the trial court granted the dismissal was the requirement that the Youngs plausibly allege that they engaged in protected activity. In other words—that they that they acted "in furtherance of an action under" the False Claims Act or undertook "other efforts to stop 1 or more violations" of the Act. Protected activities include collecting information about a possible fraud, even before the relator is able to put together "all the pieces of the puzzle." Citing its recent decision in United States v. Triple Canopy, Inc. where the court found that if making false implied staffing certifications to the government can constitute a False Claims Act violation, acts undertaken to, for example, investigate, stop, or bring an action regarding such false implied staffing certifications can constitute protected activity for purposes of a retaliation claim. Accordingly, in this case, the Youngs were found to have plausibly pled the protected activity element.
They alleged, for example, that under CHS's $61.5 million contract with the State Department to provide medical services at medical facilities in Iraq, CHS was obligated to ensure that certain personnel were properly trained and certified prior to arrival in Iraq. The Youngs alleged that CHS's director of international operations was told that "CHS management at Sather is defrauding the government." In particular, he was told that CHS listed emergency medical technicians as scrub technicians for surgery even though they had no surgical experience. Again citing Triple Canopy, the court said that the Youngs' falsified staffing report allegations more clearly support their having been engaged in protected activity. Finally, the Court of Appeals notes that the trial court dismissed the complaint by relying on a case decided when a different standard applied and decided before Congress broadened the scope of the False Claims Act in 2009 to protect a wider array of employee actions to stop violation of the law.
In 2014, CHS was awarded a second major medical services contract in Iraq. Under the multi-million dollar contract, CHS agreed to provide a full range of clinical services, including on-site emergency care, dental, pharmaceutical, laboratory, x-ray services, and resuscitative and general surgery to as many as 2,500 personnel on Balad Air Base. CHS Middle East LLC is a wholly owned subsidiary of Comprehensive Health Services, Inc. a provider of onsite health centers for the federal government and national examination programs for government and commercial clients.