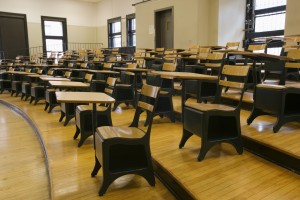 The former president of Concorde Career Colleges Inc. ("Concorde") is alleging that the concerns he raised regarding the recruitment policies of the for-profit school resulted in his termination in violation of the federal False Claims Act. The complaint also alleges breach of contract, and violations of Delaware Whistleblower's Protection Act and Oregon Whistleblower Protection Statute. According to relator John L. Hopkins, the network of schools was risking defauding the U.S. Department of Education based on its recruitment policies. The network of schools allegedly requires its recruiters to get a set number of students to enroll every week in addition to developing a program that tries to steer potential nursing students into less popular careers in order to increase enrollment in its other programs.
Hopkins has worked within the education industry since 2006 and was recently recognized as an "Executive of the Year" by the American Business Awards. In May 2014 Hopkins was contacted in connection with Concorde's search for a new president and CEO. Concorde allegedly assured Hopkins that he would be given significant latitude in shaping business priorities and policies because significant changes needed to be made in order to make the company profitable again. Hopkins finally began working for Concorde on August 18, 2014 and shortly thereafter identified a number of changes that needed to be made to improve the school's performance. For example, Hopkins identified issues with Concorde's corporate culture—the school's senior leadership was located in Kansas but none of Concorde's campuses were located in Kansas. Instead, the school maintains campuses in California, Colorado, Florida, Mississippi, Missouri, Oregon, Tennessee, and Texas. Hopkins also found that key positions were staffed by individuals that lacked the requisite experience for the position.
Concorde has over 20 programs that focus on providing educational and vocational training in the healthcare field. For example, the school offers programs in nursing, respiratory therapy, medical assisting, medical office administration, dental hygiene, and massage therapy. Hopkins alleges that Concorde uses an informal process referred to as "career match" where some prospective nursing students are persuaded to instead enroll in less popular courses of study. Despite its name, "career match" is not designed to benefit the prospective students, but is instead designed to boost the school's enrollment. Additionally, Concorde allegedly uses a de facto quota system, requiring recruiters to enroll a particular number of students each week. Hopkins claims that compliance with this quota system is the only metric by which the school assess its recruiters. In 1992, through the Higher Education Act's Incentive Compensation Ban, Congress banned schools participating in federal student aid programs from paying commissions, bonuses, or other financial incentives to individuals based on their success in enrolling students or securing their financial aid. The ban applies to all post-secondary schools, including private for-profit, public, and private non-profit schools. This incentive compensation ban was designed to eliminate deceptive recruiting practices and to protect federal student aid funds from fraud and abuse. Hopkins was concerned that these admissions practices were potentially in violation of regulations promulgated by the Department of Education. At the very least, the practices were materially inconsistent with, and a serious deviation from, the Department's regulations intended to protect against fraud, deceit, and misappropriation of public funds.
Although he began working for the school in August, Concorde and Hopkins executed the employment agreement on October 30. Subsequently, Hopkins informed Concorde of his concerns regarding these practices and took steps to prevent any further potential violations of federal law. More specifically, he took his concerns to outside counsel and informed Concorde's regional admissions directors that the process needed to be changed. On November 10, Concorde terminated Hopkins employment. No explanation was provided. According to the complaint, the termination was in bad faith, and a pretext for retaliation. The False Claims Act provides for the recovery of damages associated with retaliatory employment actions. An employee that is unlawfully terminated, demoted, or otherwise discriminated against as a result of the steps that they have taken to report or investigate fraud is entitled to all relief necessary to make that employee whole. The provision also applies when employees express concerns to supervisors over potential false claims. Relied may include reinstatement with seniority, double back pay plus interest, and any special damages sustained due to the discrimination including reasonable litigation costs and attorneys fees.