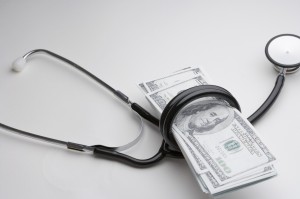 Three relators are alleging that AIDS Healthcare Foundation Inc. ("AHF") violated the federal False Claims Act, the Florida False Claims Act, and the Anti-Kickback Statute through a fraudulent scheme to generate consumer demand for its programs. It was allegedly designed to defraud Medicare, Medicaid, and HIV/AIDS grant programs sponsored by the Health Resources and Services Administration and the Centers for Disease Control and Prevention—two agencies located within the U.S. Department of Health & Human Services. AHF allegedly conducted an organization-wide effort across at least twelve states to enhance funding from the government by paying financial inducements to employees and patients in order to generate referrals to AHF's various service centers, including clinical services, insurance services, pharmacy services, and testing services. According to the complaint, improper billing in just a single year was estimated to exceed $20 million. AHF is a California corporation headquartered in Los Angeles, California. In addition to Florida and California, AHF conducts operations in at least ten other states. The company describes itself as a global organization providing cutting-edge medicine and advocacy to more than 200,000 patients in 28 countries. AHF is also the largest provider of HIV/AIDS medical care in the U.S.
Payments to AHF under HIV testing contracts were either allocated as lump sum amounts paid in equal installments or paid on a per test cost reimbursement basis periodically throughout the year. Many of AHF's HIV testing contracts required, as a condition of the contract, that AHF perform a certain amount of testing and demonstrate "linkage" between HIV positive test results and clinical care for the individuals who tested positive. Failure to meet these goals resulted in payment reductions under the contracts. For example, one contract with Florida Department of Health provided that "The Provider must link at least 95% of clients with a positive test result to medical care." The contract further provided that the failure to conduct a minimum of 950 HIV tests quarterly would result in a reduction in payment in the amount of $24.86 per HIV test not performed. And, the failure to screen, test, or treat a minimum of 750 individuals per quarter would result in a reduction in payment in the amount of $52.50 per individual not screened, tested, or treated.
In order to ensure compliance with these and other similar contractual requirements, and avoid losing federal funding under the testing contracts, AHF allegedly incentivized its employees to increase the volume of HIV test referrals to AHF's testing locations and refer patients with positive test results to AHF clinical service centers. AHF then sought additional reimbursement from government health care programs for providing services to those patients. Accordingly, AHF allegedly paid its HIV testing personnel under a commission based formula that combined a base salary amount and an additional commission amount that was based on the number of tests performed. Additional incentive compensation was allegedly paid to testing staff managers, who received financial bonuses if their staff exceeded numerical testing goals. A bonus of up to $100 was paid to an employee that linked a patient who tested positive with an AHF linkage coordinators for referral to clinical services. AHF allegedly encouraged its linkage coordinators to contact any HIV positive patients referred by AHF's testers and link those patients to AHF clinical services. To achieve these goals, linkage coordinators were allegedly authorized to pay for patient meals at local fast food restaurants and pay the transportation costs for those patients to travel to AHF clinical service centers. Gift certificates and cash payments were allegedly paid to AHF Public Health Division employees responsible for referring patients to AHF for pharmacy and insurance services. Similarly, patients were allegedly given valuable gifts for frequenting AHF pharmacies, including a monthly allotment of multivitamins and nutrition shakes worth more than $50.
The Anti-Kickback Statute is violated whenever someone offers, receives, solicits or pays anything of value, whether directly or indirectly, in cash or in kind, in return for the referral of an individual for services reimbursable by a government health care program, or for the purchase or ordering of items or services reimbursable by a government care program. The Anti-Kickback Statute predicates liability under the False Claims Act because the illegal referrals result in false or fraudulent claims for reimbursement. Relator Jack Carrel was the Director of Public Health in the Southern Bureau of AHF, from 2012 through 2013. Relator Mauricio Ferrer was a Senior Program Manager in the Southern Bureau of AHF from 2011 through 2012. In 2013, relator Shawn Loftis was the Grants Manager at the Southern Bureau for AHF.